Ever wonder what it's like to be a part of the PRISM team? Meet Emily Leverone, PRISM Account Manager. She is behind everything PRISM, from our Facebook to Twitter to Instagram, and even LinkedIn!
How did you hear about PRISM? When did you first enter the organization?
I first heard about PRISM at the end of my Sophomore year through a friend who was taking Professor Wertalik's Intro to Marketing class (MKTG 3104). I was in the process of changing my major from Biochemistry to Marketing, and my friend suggested I reach out to Professor Wertalik and talk to her about Pamplin, Marketing, and an organization called PRISM.
I thought that there was no way a busy professor would care to meet with someone who wasn't her student at the time, but three hours and several cups of coffee later, I knew I needed to be involved in PRISM. I applied and was accepted into PRISM in the Fall of 2016, which was the first semester of my Junior year.
What is it like being an account Manager for PRISM as well as a full-time student?
I am an Account Manager for the PRISM account, which means that I am responsible for curating content and leading my team in pushing out that content through our social channels. Being in PRISM is definitely a huge honor as well as a huge responsibility, and we all treat it like it's our full-time job.
Holding this position alongside a full course load has taught me to plan ahead, communicate efficiently to my team, as well as honor my commitment to an organization. Agency life is fast paced and often high pressure, so I know that being involved in PRISM, along with being a full-time student, will serve me well in the long-run.
What has been one of the most rewarding experiences you've had in your position?
The most rewarding thing about being an Account Manager has been the close relationships I have built with my team, our Executive team, as well as the organization as a whole. It is very rewarding to be part of an organization that looks out for one another and celebrates each other's successes together.
What has been the greatest challenge you have faced in your position?
Advertising agencies devote significantly less time to their own brand because they are so busy planning and carrying out campaigns for their clients.
Working on PRISM's account has presented me with the challenge of increasing our personal brand recognition both on campus and throughout other ad agencies in the US. It has pushed me both strategically and creatively, and I have learned a lot from this challenge!
What's your major? What are your hopes for after college? Do you think PRISM will help to get you there?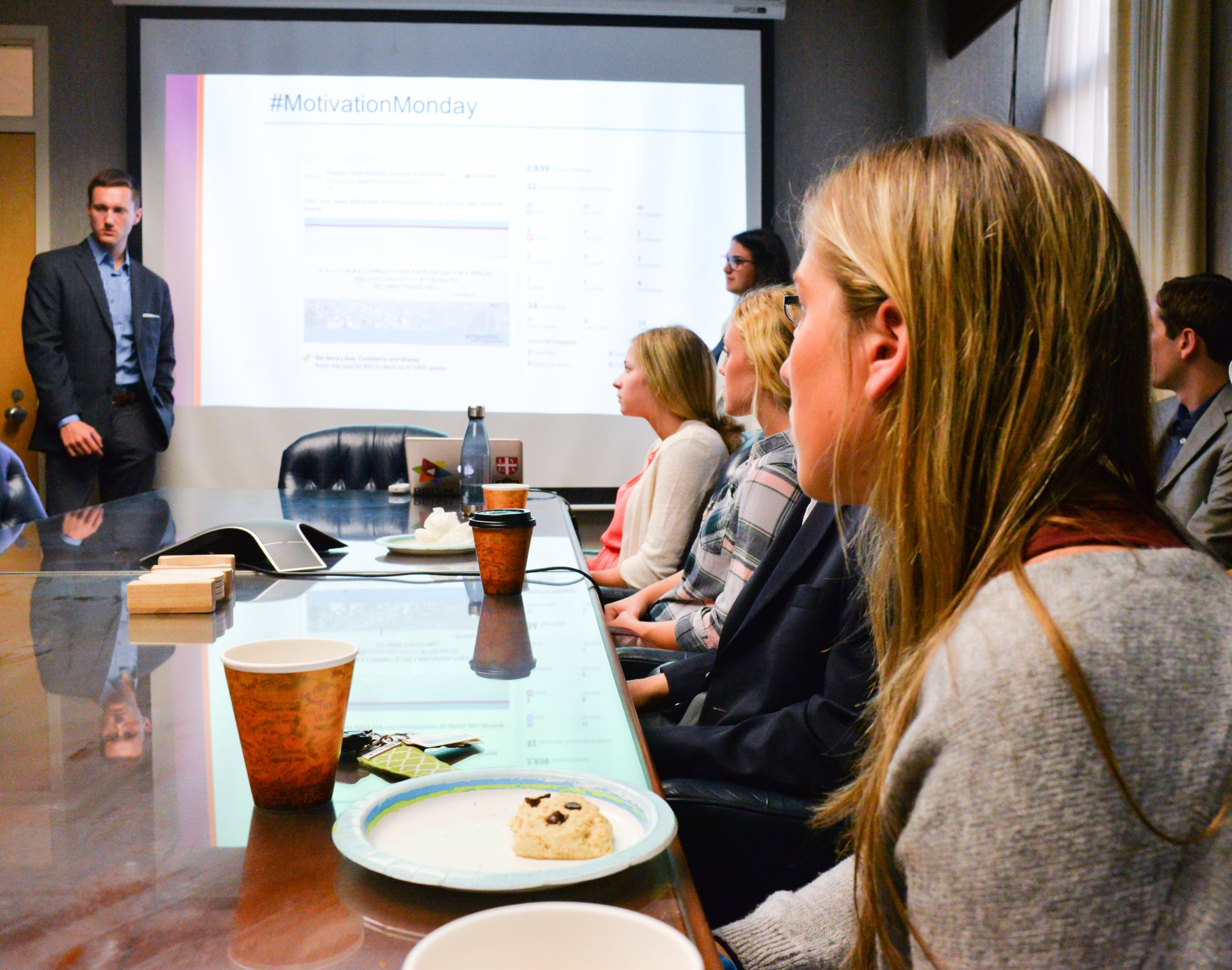 Currently, I am a Marketing major entering my senior year. After college, I would love to work as an Account Manager at an advertising agency in a big city like New York or Boston. My dream account would be either P&G or SmartWater.
I wholeheartedly believe PRISM has put me in the best position to achieve these dreams due to the work we do for our clients in Blacksburg. After a few years, I would love to teach marketing at the collegiate level.
What kind of opportunities does this position give you for your future?
Actually, I am currently in New York City working as an Account Management Intern for Publicis Groupe for the summer! It is the world's 3rd largest communications group, and has been an amazing experience so far. Some of their more well-known accounts include Vicks, Hewlett-Packard, Citi, and Cadillac.
I was made aware of this opportunity through Professor Wertalik and a PRISM alum who works at Publicis full time. I not only get to learn from the industry's best and brightest, but I also get to walk through Times Square every day on my way to work and explore the city on the weekends!
We are so lucky to have this superstar as part of our PRISM family! We can't wait to see what amazing things she accomplishes in the future.